Register
TGK ELITE Summer Camps Basketball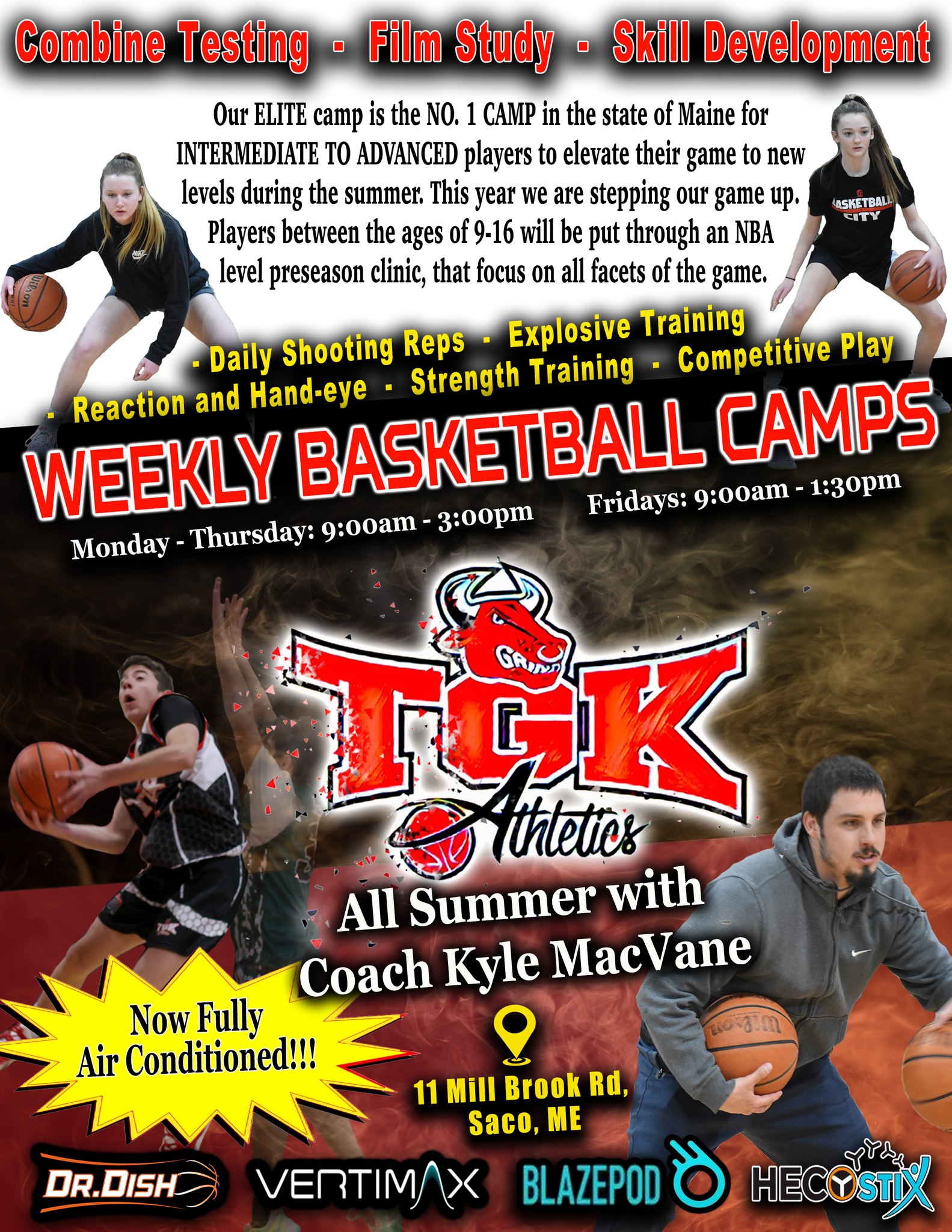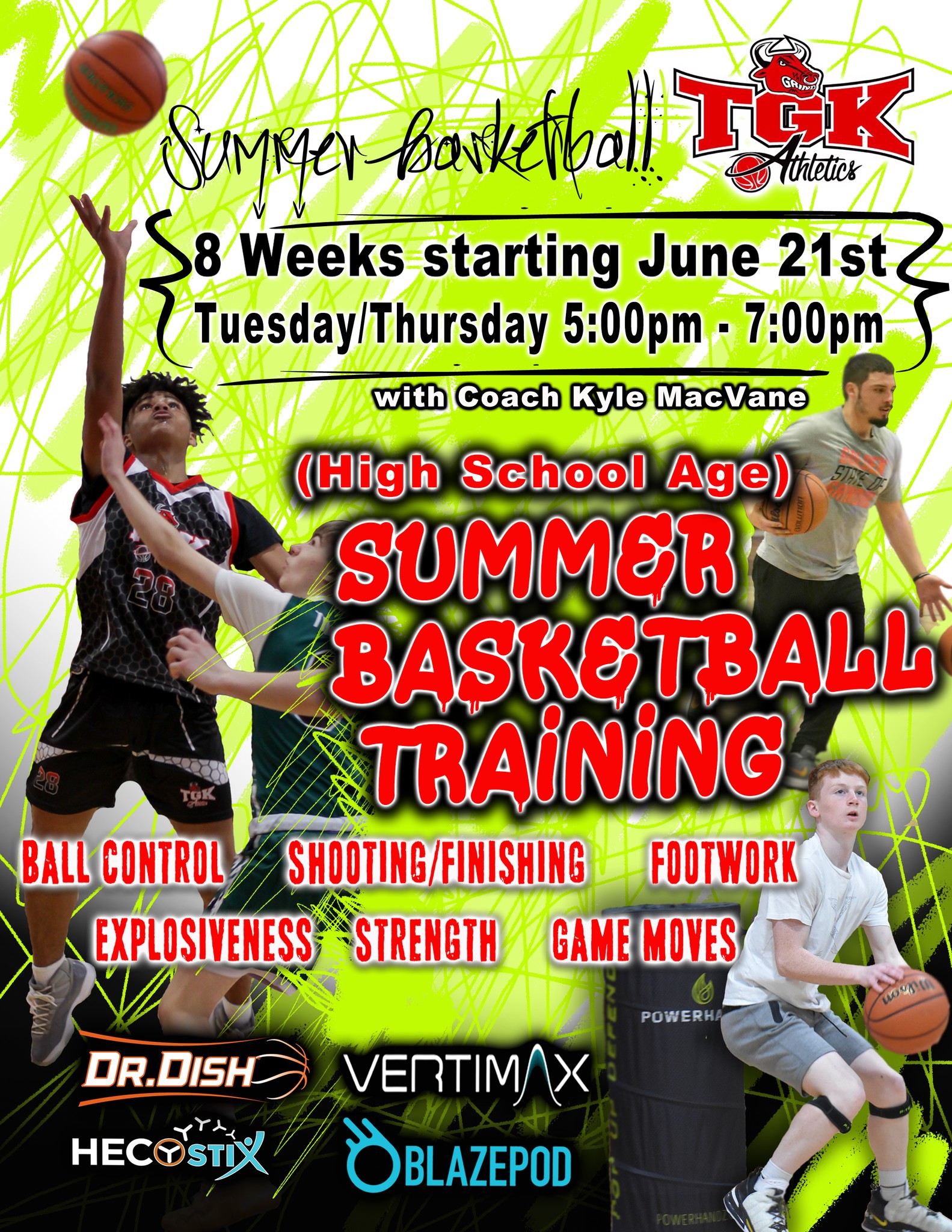 FILM STUDY Campers will get 30-40 minutes of film breakdown everyday, watching how NBA players react to difficult situations. Players will be tasked with replicating the same situations, everyday of camp.
SKILL WORK Players will be divided into small groups for dedicated skill work everyday. Each player will have the opportunity for 250-300 jump shots every day, with form adjustment/reinforcement being the primary goal. Shooting stats will be tracked on our Dr. Dish
STRENGTH TRAINING All campers will be introduced to our Strength & Conditioning program during ELITE camp. Your child will have their Speed & Agility, Vertical Jump, and Power developed all week long.
COMPETITIVE PLAY While 5v5 is important, our ELITE camp focuses extensively on 2v2 & 3v3 IQ and tactics. Players will get more opportunities on both sides of the ball, and will learn how to translate new ideas into the real game.
Additional Information AGES 9-13 CAMPERS BRING THEIR OWN LUNCH BEFORE AND AFTER CARE INCLUDED!
Schedule - (DOORS OPEN AT 8:30am)
ELEMENTARY & MIDDLE - MON -THURS: 9am - 3pm
High School - TUES & THURS AFTERNOONS 5-7PM

*Note: there are only 30 spots available for each session, so reserve your spot before they fill up!
Name
Price
Details
Date/Time
Instructor
Elementary & Middle School
Session 1 - June 20th-24th
4
Intermediate
Summer 2022
Jun 20 - Aug 26
Mon,Tue,Wed,Thu
9:00AM to 3:00PM
TGK GrindLab
Kyle MacVane, Coach D & Coach Kodi
Session 2 - June 27th - 30th
4
Intermediate
Summer 2022
Jun 20 - Aug 26
Mon,Tue,Wed,Thu
9:00AM to 3:00PM
TGK GrindLab
Kyle MacVane, Coach D & Coach Kodi
Session 3 - July 11th - 14th
4
Intermediate
Summer 2022
Jun 20 - Aug 26
Mon,Tue,Wed,Thu
9:00AM to 3:00PM
TGK GrindLab
Kyle MacVane, Coach D & Coach Kodi
Session 4 - July 18th - 21st
4
Intermediate
Summer 2022
Jun 20 - Aug 26
Mon,Tue,Wed,Thu
9:00AM to 3:00PM
TGK GrindLab
Kyle MacVane, Coach D & Coach Kodi
Session 5 - July 25th - 28th
4
Intermediate
Summer 2022
Jun 20 - Aug 26
Mon,Tue,Wed,Thu,Fri
9:00AM to 3:00PM
TGK GrindLab
Kyle MacVane, Coach D & Coach Kodi
Session 6 - August 1st - 4th
4
Intermediate
Summer 2022
Jun 20 - Aug 26
Mon,Tue,Wed,Thu
9:00AM to 3:00PM
TGK GrindLab
Session 7 - August 8th - 11th
4
Intermediate
Summer 2022
Jun 20 - Aug 26
Mon,Tue,Wed,Thu
9:00AM to 10:00PM
TGK GrindLab
Kyle MacVane, Coach D & Coach Kodi
Session 8 - August 15th - 18th
4
Intermediate
Summer 2022
Jun 20 - Aug 26
Mon,Tue,Wed,Thu
9:00AM to 3:00PM
TGK GrindLab
Kyle MacVane, Coach D & Coach Kodi
Session 1 - June 21st & 23rd
2
Advanced
Summer 2022
Jun 21 - Aug 26
Tue,Thu
5:00PM to 7:00PM
TGK GrindLab
Kyle MacVane, Coach D & Coach Kodi
Session 2 - June 28th & 30th
2
Advanced
Summer 2022
Jun 28 - Aug 26
Tue,Thu
5:00PM to 7:00PM
TGK GrindLab
Kyle MacVane, Coach D & Coach Kodi
Session 3 - July 12th & 14th
2
Advanced
Summer 2022
Jul 12 - Aug 26
Tue,Thu
5:00PM to 7:00PM
TGK GrindLab
Kyle MacVane, Coach D & Coach Kodi
Session 4 - July 19th & 21st
2
Advanced
Summer 2022
Jul 19 - Aug 26
Tue,Thu
5:00PM to 7:00PM
TGK GrindLab
Kyle MacVane, Coach D & Coach Kodi
Session 5 - July 26th & 28th
2
Advanced
Summer 2022
Jul 26 - Aug 26
Tue,Thu
5:00PM to 7:00PM
TGK GrindLab
Kyle MacVane, Coach D & Coach Kodi
Session 6 - August 2nd & 4th
2
Advanced
Summer 2022
Aug 02 - Aug 26
Tue,Thu
5:00PM to 7:00PM
TGK GrindLab
Kyle MacVane, Coach D & Coach Kodi
Session 7 - August 9th & 11th
2
Advanced
Summer 2022
Aug 09 - Aug 26
Tue,Thu
5:00PM to 7:00PM
TGK GrindLab
Kyle MacVane, Coach D & Coach Kodi
Session 8 - August 16th & 18th
2
Advanced
Summer 2022
Aug 16 - Aug 26
Tue,Thu
5:00PM to 7:00PM
TGK GrindLab
Kyle MacVane, Coach D & Coach Kodi